I had purchased the Canon 1D Mark III and as a part of the Canon Edge program I had to avail my free ticket before end of March 2008. I decided to go to Thattekkad and hire Eldhose as my guide. I contacted Eldhose and booked him for the duration of my stay. Thanks to Canon who helped me book and get my tickets on time.
I took the Kingfisher Airlines out of Bangalore on 21st morning at 6am. I was at Kochi (Cochin) by 7:15am and took a taxi to Salim Ali Bird Sanctuary in Thattekkad. Eldhose was waiting for me at the park entrance and helped me check into a home stay which is inside the sanctuary. I dumped my luggage and immediately was ready with my gear to head to the park. Our main target for the morning was to get the Ceylon frogmouth. The weather was not on my side and it was drizzling. I always carry a huge plastic cover which can protect my camera and the 500mm lens in case it rains. With the little showers accompanying us, we set out in to the forest.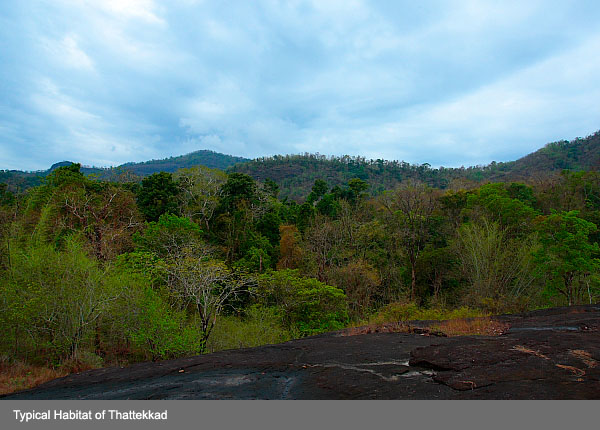 We reached the watch tower and Eldhose asked me to wait there while he went into the woods. He came back with a big smile as there were three frogmouths perched on a single branch. We spent some time with these and tried out various experiments with exposure. The rest of morning we roamed around in search of other winged beauties. We returned for some delicious kerala food. I took a small nap after lunch and resumed photography at 2:30pm. In the afternoon, we went to Cuckoo paradise where we were greeted by a common Indian cuckoo. I spent the whole of afternoon photographing the various species we found there. Later in the evening we tried to photograph the Jerdons Nightjar and returned to base, had good dinner and retired for the day.
The next morning we took a bus and traveled around 15km and got down in the middle of nowhere. It was raining continuously till we reached this place. Fortunately it stopped as we started our photography. The habitat here was excellent to find the western ghat endemics. After photographing for sometime, I realized that the place was full of leeches. I had a tough time removing them. Though we saw a lot of birds, photographing them in this habitat was a challenge. I wished I had longer reach of lens and also wished the birds were at eye level. We are always tied with these limitations in bird photography. We took a bus back to the sanctuary and arrived in time for lunch. Later in the afternoon, Eldhose took me to another beautiful location inside the sanctuary. This location reminded me of Bannerghatta National Park with the entire rocky habitat. We spent time till evening with the rain god showing some mercy on us. Though I could not get too many images here, the location charged me up and I was enjoying every bit of time I spent here. I decided to visit this place again in November.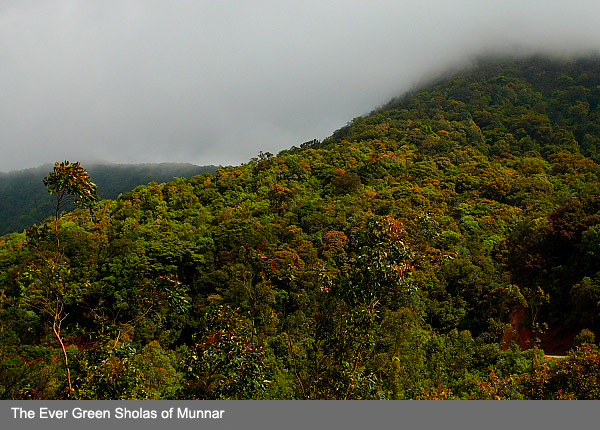 During the previous day while talking to Eldhose, we had decided to spend a couple of days at Munnar since the weather was not on our side at Thattekkad. He made arrangements for taxi and we left for Munnar the next morning. Though the weather in Munnar was similar, there we could shoot from the vehicle unlike in Thattekkad here, where most of the shooting happened on foot. Our first sighting for the day was a Black eagle being chased by a black drongo. I made some quick images before it vanished into the valley. Luckily the weather was bright and sunny. We spent the whole of morning around the outskirts of the city. We later checked into a hotel and continued our photography. We also took a small boat ride to photograph the little grebs. After lunch, we went to a school area on the outskirts of the city. It was pouring by the time we reached the school. We waited in the taxi for the rain to stop. Once the rain stopped, the weather brightened up and the bird activity also increased.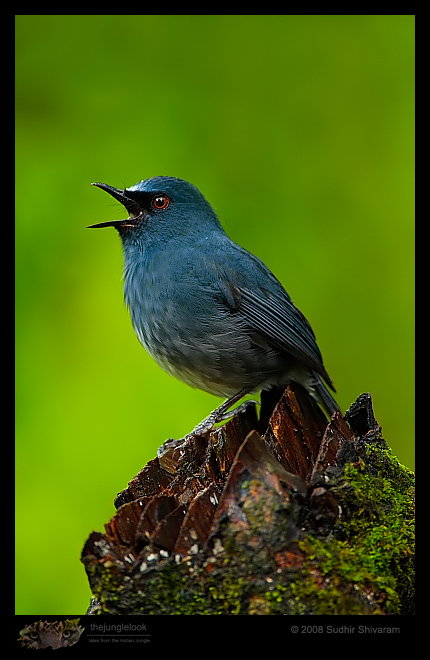 One of the "must photograph" birds on my list was the white bellied shortwing. Eldhose helped me to locate the bird. It was in the shoals and not coming out. After trying for some time, we went back to a flowering tree where more birds were present. After a while we heard the call of the white bellied shortwing and went back to the same location where we had seen it. This time I could see it in the open. But before I could approach it, it disappeared. I cursed myself for not taking a record shot of it in the open. I waited in front of that open perch for a while. Suddenly out of nowhere it flew in and sat right in front of me at minimum focusing distance for my 500mm + 1.4x converter. I immediately started clicking. Since it was there for a long time, I managed to get some nice photographs. There were no bounds to my joy after photographing it. Later that night I previewed the images at the hotel and knew I had my catch of the day.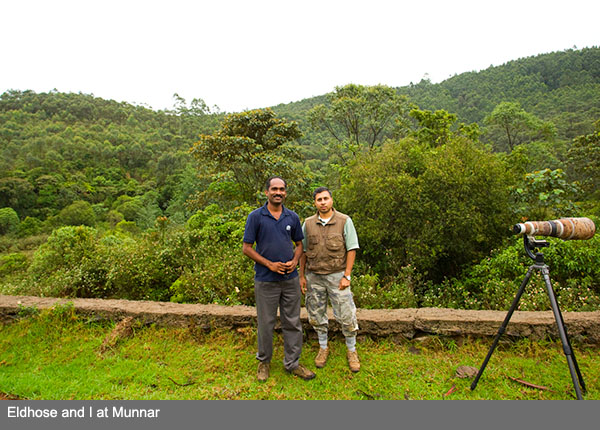 The next morning we revisited the school area and a few other places on the outskirts of the city. The weather was bright and sunny and I managed a few good images. We had lunch and left back to Thattekkad to drop Eldhose and me back to Kochi airport to catch my flight to Bangalore.
Photographs from this trip can be viewed here.
About Salim Ali Bird Sanctuary
The Salim Ali Bird Sanctuary (also commonly known as the Thattekad Sanctuary) is located in the Kothamangalam Taluk of Ernakulam district on the northern bank of the Periyar river. The sanctuary was notified in 1983 based on a recommendation made by Dr. Salim Ali many years previously. Ali described Thattekad in the 1930's as the richest bird habitat in peninsular India, comparable only with the eastern Himalayas. Since then much of the forest has been diverted to cultivation and teak and mahogany plantation but what survives gives a glimpse of the phenomenal bird diversity of the once widespread lowland forests of Kerala. Some basic facts about the sanctuary are listed below:
Basic information on Salim Ali Bird Sanctuary, Thattekad
Latitude: 76 deg. 40' - 76 deg. 45' N
Longitude: 10 deg. 7' - 11 deg. E
Altitude: 35- 523 m (Njayapilli peak)
Area: 25.16 sq. km
Rainfall: 2500 mm annually
Forest type: Tropical semi-evergreen and tropical deciduous
Mammals: Elephant, Leopard, Sloth Bear, Porcupine
Bird species > 250

How to Reach (Thattekad Bird Sanctuary)
The sanctuary is 13 km north-east of Kothamangalam along the Pooyamkutti road. The nearest railway station is Aluva at a distance of 48 km. Kochi, the nearest airport is 40 km away.
Kothamangalam is well connected by privately operated buses to Ernakulam via Muvattupuzha or Perumbavoor. There are frequent buses from Kothamangalam to Thattekad..
Accommodation (Thattekad Bird Sanctuary)
There is a three storied watch tower inside the Sanctuary with two beds, a toilet and a kitchen. No electricity here but there are a few solar powered lamps. A forest department inspection bungalow called Hornbill is located near the sanctuary entrance. There is a dormitory just inside the sanctuary which is ideal for large groups. Accommodation is also available at the PWD rest house near the Bhoothathankett Dam and in lodges in Kothamangalam.
For further information about the sanctuary and for booking accommodation contact:
The Chief Conservator of Forests (Wildlife), Thiruvanthapuram Kerala 695014 The Wildlife Warden, Idukki Wildlife Division, Vellappara, Painavu P.O. Idukki District 685603 Phone 0486 232271 The Assistant Wildlife Warden, Thattekad Bird Sanctuary, Njayapilli P.O. , Kothamangalam, Kerala Phone 0485 588302