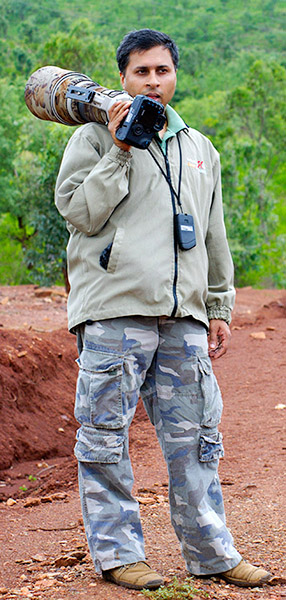 Sudhir Shivaram is a renowned name in India's Wildlife Photography arena. He was bitten by the shutterbug even during his college days when he was part of the Malnad Amateur Photographers Society (MAPS) at the Malnad College of Engineering, Hassan. What began as a random interest in photography gradually gained direction, and he became more and more focused on wildlife photography, more so bird photography. Sudhir is passionate about wildlife conservation and follows ethical practices while photographing his subjects.
Sudhir conducted his first ever solo exhibition at the "Time and Space" Art gallery titled "Fauna Around Bangalore" during July 2004, displaying a stunning array of birds in their natural habitat, which was featured prominently in the city's newspapers and TV channels. Part of the proceeds of his exhibition was donated to "Namma Sangha" of Bandipur, an NGO involved in the conservation of wildlife.
His pictures are noted for their tight composition and pleasant mood they convey. Sudhir believes that wildlife photography is much more than just equipment and materials. It is essentially a way of looking at nature and its denizens with a kind of sensitivity and response, which is part of one's innate personality. This green evangelist is also involved in wildlife protection and related projects by contributing his images to various organizations across the world. Hoping to inspire and ignite young minds about the need for wildlife conservation, Sudhir has delivered lectures in this field to various sections of the society.
Being part of the India Nature Watch (www.indianaturewatch.net) team, Sudhir makes the most of his free time coordinating the activities of this online forum which has over 2500 users who share their passion for nature and photography.
With a full time Sr. Project Manager Job in a software MNC, Sudhir also takes time to hold regular photography classes the content of which can be viewed here.