The number of trips I have made this year are far less than what I had done last year owing to health and other personal reasons. But still it has been a good year with respect to a lot of learning on the photography side. I have upgraded to Photoshop CS3 and underwent Photoshop CS3 Color Correction training (online)by Taz Tally and also Photoshop CS3 for Photographers by Chris Orwig. I also bought the sekonic L386 Lightmeter and I now do exposure reading off the lightmeter for most of my images.
With all these developments happening, Dr. Ajit Huilgol and self planned to visit Daroji Bear Sanctuary. We thought we will miss photographing the bear cubs piggy-backing on their parents but we were not aware that we would be proved wrong.
We started off from Bangalore at sharp 6am from Ajit's residence. The NH-4 Pune-Bangalore highway has had a face lift and the drive was wonderful. We crossed Hiriyur (where I was last month trying to photograph the Rock Bush Quail) at 8:30am and reached Chitradurga by 9:30am. We had breakfast here and proceeded towards Hampi near Hospet. By 11:30am we were in Hospet and drove beside the Tungabhadra River which was up to the brim due to recent rains in the catchment areas. Finally at 1pm we reached the forest rest house. We met up with the RFO of Sandur and also our good friend Vijay Mohan Raj, who is the DFO of Sirsi. After lunch we left for Daroji Bear Sanctuary driving along the High Line Canal which is a fantastic habitat for raptors and owls.
Here's a typical habitat of Daroji Sanctuary: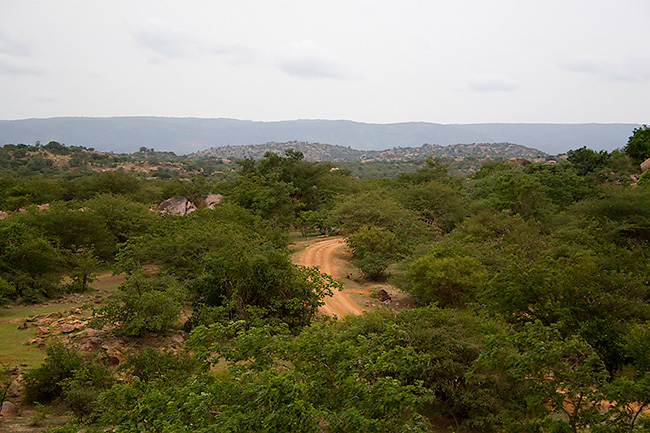 It was 2pm by the time we reached the sanctuary and headed straight for the Bear Spot. Our vehicle was covered with Tarpulin to make it look like a natural hide. The forest department folks smear the rocks with honey and jaggery for the bears. We waited for the bears to come. The first visitor to arrive was a male painted spurfowl. I remembered the beautiful image which my friend Ganesh had taken here and got ready to frame it. It gave a small glimpse before disappearing into the bushes. Hard luck I said to myself. As we waited, the Ruddy Mongoose came along sniffing in the air looking for some food and disappeared under the rocks. It was playing hide and seek with us as we could see it peeping from under the rocks. Finally after around 15 minutes of wait, a mother bear came along with two cubs. The mother Bear went straight for the honey smacked on the rocks and the cubs followed her. It was nice to see the cubs play around with each other and I was able to get images of it. As I was photographing with the 500mm lens, I had a tough time composing the images as the Bears were overflowing in my frame. I wished I had a smaller focal length lens. More bears and cubs made their appearance and it was a treat watching them lick the rocks while the cubs played around. Apart from the Bears, lots of birds and squirrels were there to get their share. I then switched to the Canon 18-55 lens and made some images of the Bears in its habitat. The Ruddy Mongoose came back and this time gave some nice pose for me to shoot its portrait. Also a pair of Peafowls were around. Finally by around 4:30pm the Painted Spurfowls came back. We had a great time photographing them as they were around for more than 20 minutes. I had to remove my 1.4x TC and shoot at 500mm focal length as they came very close.
And then at 5:15pm, we saw a bear cub piggy-backing on her mother arrive at the scene. I had only seen photographs of this behavior and was very happy to witness it. The cub did look quite big compared to the other ones who came walking beside their mom. This one was so lazy to get down that it started licking the boulders from its mothers back. They were around for about 30 mins and came quite close to our hide. The cub gave a curious look when it was hardly a few feet from our vehicle. Finally at 5:45pm, after these two bears left, we decided to leave and come back the next day for more.
The rocky terrains of Daroji: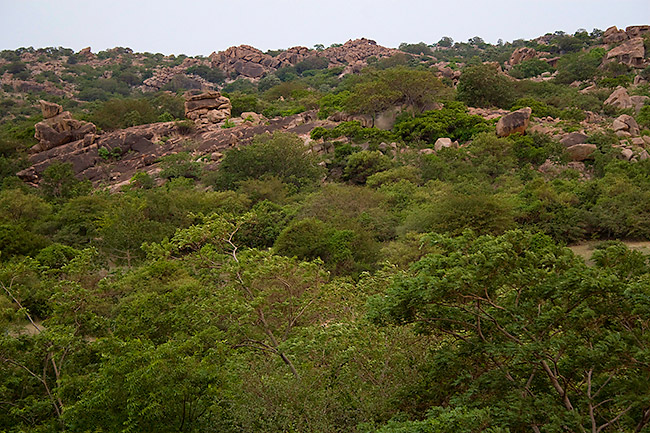 The next morning we got up early and roamed around the forest rest house. It housed 4 Spotted Owlets which we were able to see and photograph. We had passed along the High Line Canal the previous day and were amazed by the habitat around it. We had decided to visit this area and explore more. We drove beside the canal shooting anything that moved. Ajit then saw a raptor perched on the other side of the canal. It looked like a dark morph Oriental Honey Buzzard based on its head and eye shape. But I was unsure. Suddenly we saw a pale colour buzzard fly over our head and perch next to us on the bund. The shutters burst open as it landed so close to us. This was an immature Oriental Honey Buzzard. The Dark Morph which was on the other side flew and this one followed. In a short time we were able to make some excellent images of this. We spent the entire morning around the canal and made a lot of images of the fantastic bird species we found here. And of course, we did photograph a Common Monitor Lizard which was basking in the sun.
The landscape of the forest rest house: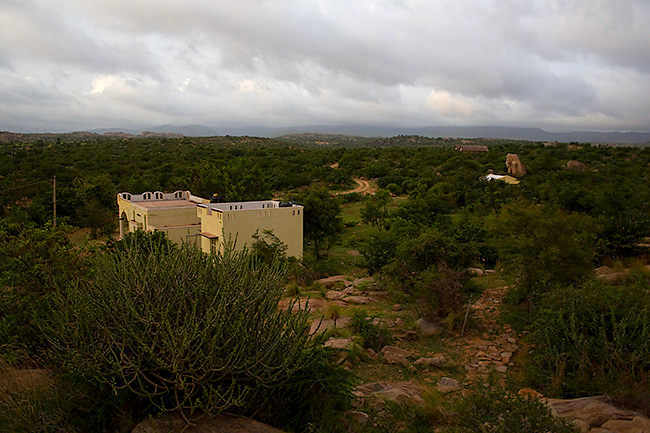 Later in the afternoon, after having lunch at the Mayura restaurant in Hampi, we drove back to the Sanctuary. This time we reached early to spend more time with the bears. We positioned our vehicle to get a good view of the rocky terrain and the bears. No sooner did the department folks left us, the bears started coming. We photographed till late in the evening capturing the behaviour of the bears along with the young ones. Before we left the sanctuary we were able to photograph the Indian Star Tortoise, thanks to the forest department folks who were able to sight one for us.
The forest rest house: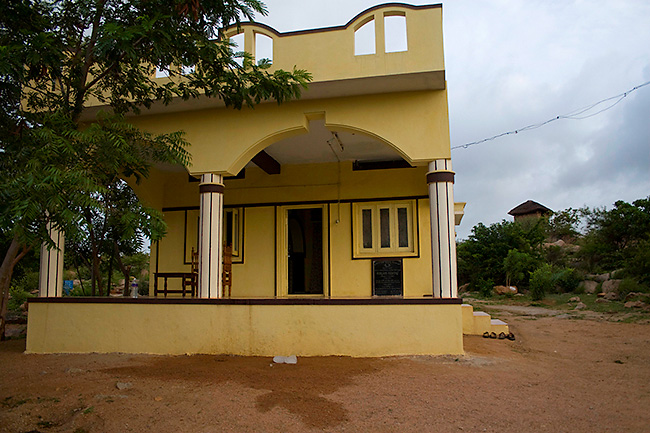 During the morning drive along the high canal, I said to Ajit that it was the perfect habitat for the Eurasian Eagle Owl. And in the evening, while returning from the sanctuary, we were lucky to sight one. Though the light was bad, we were able to get some good record shots of this magnificient owl. Later in the evening we had dinner and retired for the day. The next morning we thanked the forest officials for the wonderful stay and left for Bangalore.
Photographs from this trip can be viewed here.
About the Sanctuary
The unique Sloth Bear sanctuary is situated very close to this heritage site. Situated only 15 kilometers from Hampi, Daroji Sloth Bear Sanctuary is the only sanctuary in North Karnataka. The rock-strewn hillocks that stretch between Daroji of Sandur taluk and Ramasagar of Hospet Taluk in Bellary district have been the abode of Indian Sloth Bears since ages. In October 1994, the Government of Karnataka declared 5,587.30 hectares of Bilikallu reserve forest as Daroji Bear Sanctuary. It is estimated that about 120 Sloth Bears are living in this sanctuary, apart from Leopards, Hyena, Jackals, Wild Boars, Porcupine, Pangolins, Star Tortoise, Monitor Lizard, Mongoose, Pea Fowls, Partridges, Painted Spurfowl, Quails etc. About 90 species of birds, and 27 species of butterflies have also been identified in this sanctuary in a preliminary survey.
How to reach there
By Road: Bangalore to Chitradurga (199 kms) on NH-4, then to Hospet (135 Kms) on NH-13. And then to Kamalapura (12 Kms)-which is 10 Kms from the Sanctuary. By Rail: Nearest railway station is Hospet where trains from Bangalore and Hubli are accessible.
Accommodation
Forest Guest House, Kamalapur and Gunda Forest Guest House, Vyasanakere near Hospet.


HPC guest house, HPC, Kamalapura.


PWD guest house Kamalapura.


KSTDC's Mayur Bhuvaneshwari, Kamalapura.


"Vaikuntha" TB board guesthouse Hospet.

For more details contact: The Range Forest Officer, Daroji Bear Sanctuary, Vidyaranya, 583 2 76 (Kamalapura), Hospet taluk, Bellary district. Karnataka, INDIA Phone +91-8394-242869.