The seven states of North East India (now eight with the inclusion of Sikkim) are (clockwise) Assam, Arunachal Pradesh, Nagaland, Manipur, Mizoram, Tripura and Meghalaya. It is only connected to India by the 22km wide Siliguri Corridor and is elsewhere bordered by Bhutan, Tibet, China, Burma (Myanmar) and Bangladesh. The bird life in these parts of India is extremely rich and colourful. In the last few years I have made visits to West Bengal, Sikkim, Mizoram including places like Kolkata, Pelling, Biksthang, Lava, Rishyap, Gorumara, Dampa Tiger Reserve and Blue Mountain National Park. All these trips were purely aimed towards capturing the beautiful bird species of these places. Only after visiting those places did I realize that bird photography in this part of India is a very big challenge. No matter what kind of equipment you have, the chances of getting a bird out in the open to get that bouquet image is almost next to impossible. Forget about getting a bouquet, your chances of getting the bird in your viewfinder itself is a major task.
So, what makes this place such a big challenge for the photographers? Is it the skill, the (lack of) equipment, the season or is there something more to it? Through this article I want to bring up some finer points related to photographing birds in the North East.
North East happens to be the first place in India for the sun to rise, and of course the first place for it to set. You have good lighting for photography as early as 6am and it becomes dark by 5pm. You need to plan for your photography accordingly. As anywhere else, the birds are very active early in the morning and late in the evenings. The forest habitat consists of thick sholas where the light hardly reaches and that is where you find most of the birds.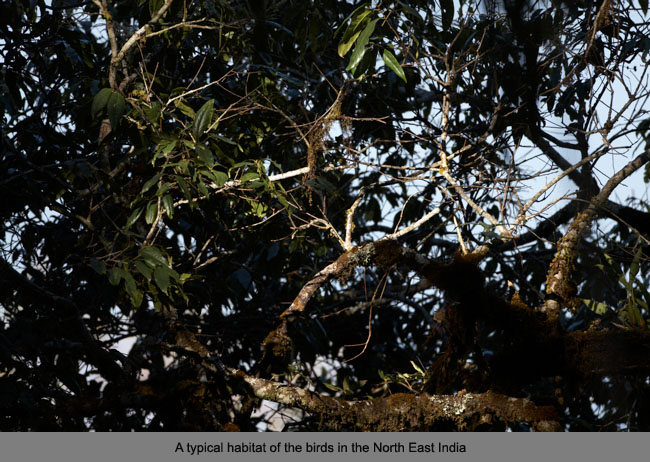 Let me talk about the overall challenges faced for photographing them:
The birds are skulkers, meaning that they mostly move within the foliage and rarely come out in the open.

They are extremely active, fast and shy. They hardly sit at one place for a long time.

Getting the bird in the view finder with a longer tele lens is a major task.

Most of the birds are in the thick foliage and you have hardly any light available to get a decent shutter speed.

If you have a long tele lens with a converter, then focusing speed becomes extremely slow because of the available light.

Mostly the birds move in hunting parties. You have this bird wave and then everything becomes silent. Because of this, it's very difficult to anticipate where an individual bird pops up around you.

In case of long tele lens, minimum focusing distance is a major issue. You may not get a good working distance.

With a long and heavy lens, you need a sturdy tripod. And with a tripod, your flexibility of movement is hampered.

Lifting the tripod and running around is one option, but you hardly have time to place the tripod and focus on the bird when you see one.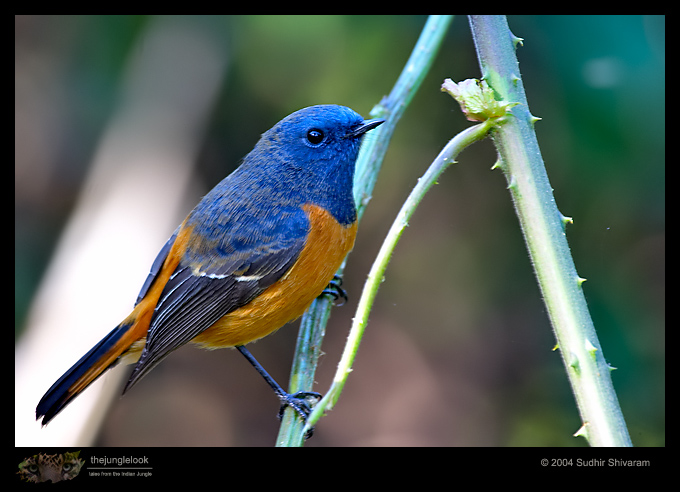 I believe there are lot more challenges than what I talked about. During my trip to Sikkim in 2004, I had a 10D and Canon 100-400. Though I had a Bogen 3021BPRO tripod, it was hand held photography most of the times. Yes, with a 100-400 the reach for the birds is less. And when I visited Mizoram in Dec 2006 I had the Canon 500mm f/4L IS and was happy that I had a world class lens. But I was proved wrong again. Especially when I had the equipment mounted on my Gitzo 1325 tripod and was walking down the steps in Blue Mountain National Park. And right in front of me the Blyth's Trogopan, probably one of the most beautiful birds in India, was walking towards me. I froze, it saw me and then it froze for a second. And that was the window of opportunity I had to photograph him. But alas, the tripod was resting on my shoulders and by the time I placed it on the ground, the bird had disappeared.
The next day I had set up my equipment on the tripod and was waiting in front of a bush where I noticed a Greyheaded Warbler. It was moving inside the bushes and was approaching me. I waited for it to come out and so I stood still. And then it popped up right in from of me, hardly a few feet from my lens. All I could do was to appreciate its beauty, as it was within the minimum focusing distance of my 500mm lens. Wish the bird understands and respects the minimum focusing distance. Since the bird was a bit cooperative I immediately moved back and was able to take a few shots.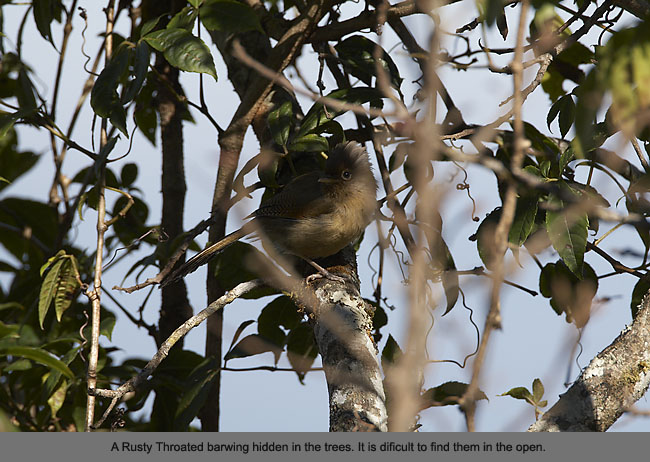 Based on my experience, I have jotted down some points to keep in mind in case you are visiting the North East to photograph birds
In my opinion, a 300mm or a 400mm lens which has IS or VR would be a good lens for photographing these birds.

A 500mm lens on a tripod helps in situations where you can identify a fruiting or a flowering tree and anticipate where the bird may come. You will have good working distance and you can compose your images accordingly.

If you can, then carry a 400mm and a 500mm lens for shooting, with the 400mm hanging beside you for handheld photography.

You need to have a fast lens as the opportunity is limited to find the bird in the view finder and focus it.

It's good to shoot wide open (largest opening of aperture) as you get the fastest shutter speed for a given ISO and the lighting condition.

When you are in the thick foliage, go to a higher ISO, choose a wider aperture and check the shutter speed you are getting. This way you can bump up the ISO if required and be prepared.
I will update this article with more tips as and when I learn. Meanwhile, happy shooting.