Day 1 - 09 December 2006
It was quite a stressful day for me. Had to get up at 3 and be in the airport by 4:30am. The Indian Airlines flight from Bangalore to Kolkata was at 6:05am. Prathap Singh, Yathin and I met up at kolkata airport and had some brunch at the Kolkata Airport restaurant, which is quite expensive but equally good. We then boarded the Air Deccan flight to Lungpui which is around 30km from Aizawl (capital of Mizoram). We had to take the inner line permit at Langpui airport on our arrival. This is a must for all tourists visiting Mizoram and is easily available at the airport. We started our road journey towards Dampa Tiger Reserve. It was a 3 hrs journey from Langpui airport. All the way I was peeking out of the window to get a glimpse of some bird as the bird population is supposed to be sparse here. But on the way we did manage to see a handful of birds.
The sun sets by around 4:30pm and by 4:45pm the driver had to switch on the headlights. At around 5:30 we managed to see a small cat which was dark in colour. It was small and not standing tall, hence we ruled it out as a Jungle Cat. Looking at the mammals of india field guide, it matched the leopard cat and the fishing cat. Though the distribution matches for these mammals, it most probably was a leopard cat.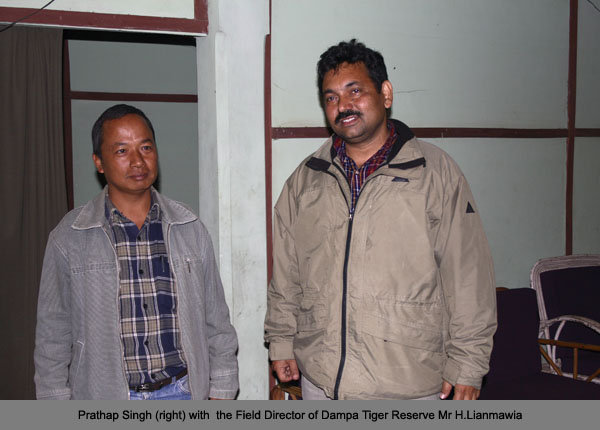 We then met up with the Field Director of Dampa Tiger Reserve Mr H.Lianmawia at his residence in W.Phaileng. We discussed about our trip plans and he helped us check in at the forest rest house at Terai. It was a very decent place with electricity and very clean rooms. We then had dinner accompanied by the RFO who had sound knowledge of the birds and mammals found in the area. We had a lengthy chat about it and retired for the day.
Day 2 - 10 December 2006
In the North Eastern part of India, its early to bed and early to rise. It gets bright by 5am and you have good light by 6am. We were up by 5am and scanned the area around the forest rest house. This was the first glimpse of the forest area we had since the time we landed here, as it was dark by the time we checked in the rest house the previous night. The rest house is situated at the entrance of the Dampa Tiger Reserve in Teirei. It is surrounded by thick bamboo forest with the Teirei River flowing beside it.
Dampa Tiger Reserve: 127 km from Aizawl, Dampa Tiger Reserve is situated in the western part of Mizoram of Mamit District. It covers an area of approximately 500 sq. km. The virgin forests of Dampa Tlang and Chhawrpial Tlang are the unique natural features of the sanctuary. Wild animals found in the Reserve are tiger, wild dog, giant squirrel, porcupine, slow loris, leopard, elephant, gaur (Indian Bison), sambar, barking deer, sloth bear, hoolock gibbon, leaf monkey, langur, rhesus macaque, jungle cat, wild boars etc. There are 10 villages around the Tiger reserve with a population of roughly 10,000 tribals mostly Mizo, Chakma, and Riang (Tuikuk) tribes.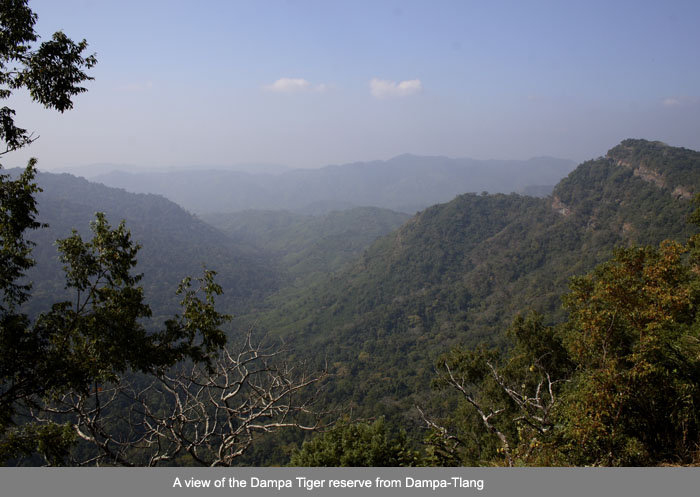 We spent about an hour's time around the rest house photographing the birds while Prathap Singh was recording the bird calls. We then proceeded on the Road beside the rest house which goes to Dampa Village. We started off with a White Brested Kingfisher and as the sunlight lit up the forest, we did get a good number of species to shoot. The forest was very active with birds, but shooting them in this habitat is quite challenging. They pop up from the canopy and keep hopping around. We did come across various hunting parties consisting of drongos, minivets, chloropsis and other smaller birds. We photographed till around 10am and proceeded back to the rest house for breakfast. After breakfast, we trekked towards Dampa-tlang. I had never seen a bamboo forest as thick as this one. There was not much bird activity. But we did manage to see a barking deer. We trekked for about 2 hrs and came back by lunch time.
While we were waiting for lunch to be served, our driver Michale pointed up at the trees and said monkeys. It turned out to be the Phayre's Leaf Monkey also called as the Spectacled Monkey because of its white eye-patches that stands out in its black face. I had been waiting to see one of them since the time I landed in Mizoram. I took one record shot and they vanished. After having lunch, we again set out on the road towards Dampa. As we left the rest house, we spotted the Leaf monkeys on the trees. We took some photographs and proceeded on the road. We managed to see black backed fork tail at almost every small stream we came across. It's a beautiful, but very shy bird to photograph. We spotted another group of Leaf Monkey happily feeding on the bamboo leaves. Later in the evening while driving back to the camp, we saw a Common Palm Civit on the road. It was quite big compared to what I had seen in Bandipur or BRT.
Later in the night we again had to drive down towards Dampa, which is around 12 km from the rest house to make phone calls. You don't get cell phone signal around the rest house. While we were making phone calls, we heard a barking deer giving out alarm calls. It could have been to a Tiger, Clouded Leopard or a common Leopard as these are the main predators found in this jungle. Later we came back to the camp, had dinner and sat down to list the birds we had seen on day 2.
Day 3 - 11 December 2006
The previous day we had trekked for around an hour on the Dampa-Tlang route and had returned as we had run out of time. It was only thick Bamboo habitat all through and not much of bird activity. Later when we inquired, we found out that the habitat on top of the hills was much different than what we had seen and consisted of thick forest and not only Bamboo as we had initially thought. So we decided to explore the route further. Early morning we left for Dampa-Tlang with packed breakfast. I was trekking with my photography equipment (lowepro bag containing my Canon 30D and the Canon 500mm lens) and the Gitzo tripod. This was the first time I was trekking along with the 8kg equipment. It was not as bad I had thought. I was doing this kind of a trek after more then 10 years. The last time I remember was the trekking to Kodachadri in the Western Ghats along with my friends.
We crossed the Bamboo patches and entered into thick forest with lots of huge trees and the habitat here was completely different from what we had seen at Dampa so far. We did come across a group of Black Capped Langur. I managed to take one record shot. So, that was the second species of the primitives I had seen and photographed in two days. We also get the Hoolock Gibbon in this part of the country. I hoped to get a glimpse of this species in this trip. We trekked further, stopping now and then to see and photograph the birds in this beautiful habitat. I had prepared myself for less photography and more of enjoying the nature during this trek, as photographing birds in this habitat is quite difficult. We also came across the Barking Deer again while waiting for Prathap Singh, who was far behind recording bird calls.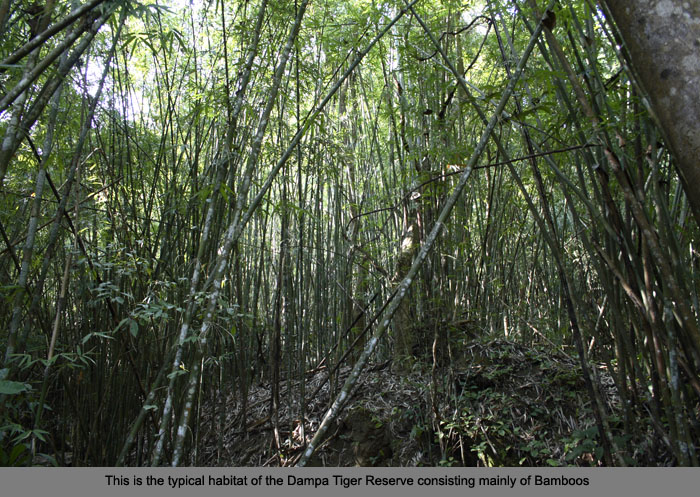 We had our breakfast at around 10am and continued our journey towards Dampa-Tlang. We trekked for 5hrs covering an altitude of around 600mts (from 250 meters, where the forest rest house is located, to 850meters). We reached Dampa-Tlang at 11am and spent some time exploring the area. We had a good view of the Dampa Tiger reserve from this point. I could see miles and miles of forest interpolated with steep precipitous hills, deep valleys consisting of wet/semi - evergreen forest to deciduous forest. This was the habitat of unique and endangered wild animals. A healthy and refreshing environment - far away from the hectic urban life.
I was a bit tired from the trek and took a small nap. By 12:30pm Yathin and I started heading back, while Pratap Singh stayed back to record some more bird calls. We reached the rest house by 2pm and had lunch. Rest of the day we hung around the rest house shooting some butterflies and other subjects.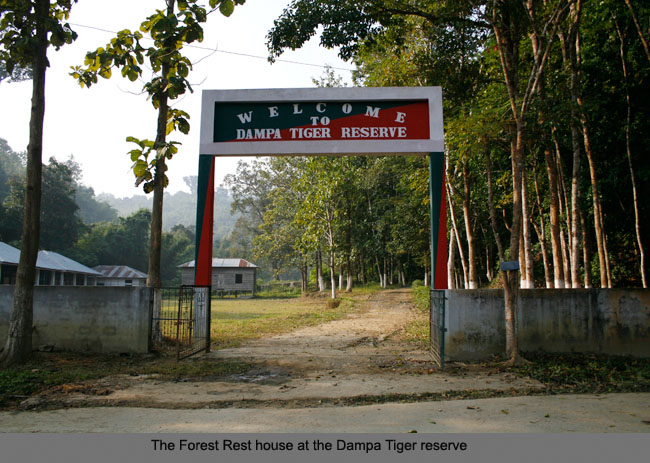 Day 4 - 12 December 2006
The next morning I took it easy and got up at around 6am. We decided to photograph on the road towards Dampa as the habitat there was good with complementing bird life. We spent a couple of hours there before heading back to the rest house for breakfast. Later I look some photographs of the rest house and the surrounding area as a part of documenting the place.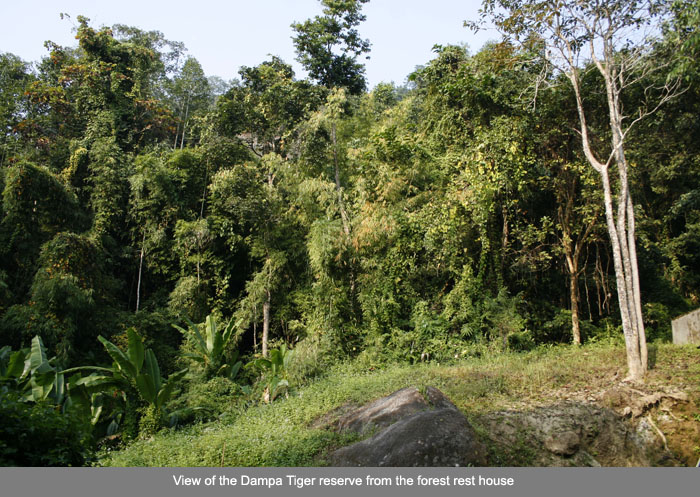 By noon we had our lunch and packed up to leave for Aizawl. We had to proceed towards Phawngpui (Blue Mountain) National Park and a continuous drive from Dampa Tiger reserve would have taken around 15 hrs of drive. Hence we decided to head to Aizawl from Dampa Tiger reserve, which is a 4 hrs drive and proceed towards Blue Mountain NP the next morning. Yathin and I had packed up our equipment and was just enjoying the nature during the drive towards Aizawl. Suddenly a Yellow Throated Martin was sighted just beside the road. We stopped our vehicle and saw this for around 10 seconds. Wish we had the camera in hand. It was out in the open in the evening light. It climbed a small rock and was staring at us at eye level. It was a good image which we captured in our memories.
During the journey towards Aizawl, we stopped in-between for Pratap Singh to record bird calls. The birds are very vocal during the rousting time and that's the best time to hear and record them. We reached Aizawl at around 8 in the night and did some minimal shopping to carry stuff to Blue Mountain NP. We checked into the Tourist Rest House which is on the outskirts of Aizawl. We had dinner and called it a day.